A Guide to Studying in Canada from Pokhara, Nepal with Way to Can Education Consultancy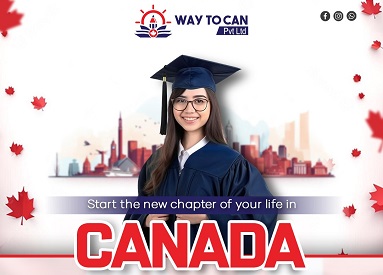 Canada has emerged as a preferred destination for international students, and Nepali students are no exception. With its world-class education system, diverse culture, and stunning landscapes, Canada offers a unique opportunity for Nepali students to pursue their academic dreams. However, navigating the complex process of studying abroad can be challenging. That's where Way to Can Education Consultancy comes in.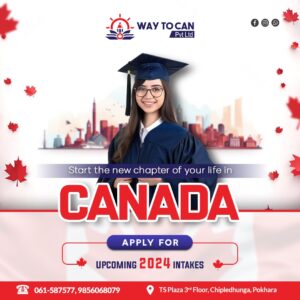 Why Choose Canada for Your Education?
Canada's reputation for its top-tier education system is well-established, and there are compelling reasons why Nepali students should seriously consider it as their study destination. Firstly, Canada boasts a collection of world-class universities that enjoy global recognition for their academic excellence; prominent institutions like the Seneca, Fanshawe, Georgian, Niagara, Lambton, Conestoga, and so on exemplify this academic prowess. Additionally, Canada's welcoming embrace of diversity creates a multicultural environment, fostering a sense of inclusivity for international students like those from Nepal. This inclusivity not only enriches their cultural experiences but also provides avenues for building global networks.
Furthermore, Canada's commitment to providing international students with ample post-graduation work opportunities through generous work permits is an attractive proposition, as it offers valuable work experience and potential pathways to permanent residency. Additionally, Canada consistently earns high marks in quality of life indexes, offering a safe, clean, and peaceful environment coupled with outstanding healthcare and social services.
The Benefits of Studying in Canada
Opting to study in Canada brings forth a myriad of advantages that cater to the holistic growth and development of students. Firstly, Canada's commitment to providing quality education is unwavering, with its institutions upholding rigorous academic standards and stringent quality controls. This ensures that graduates are exceptionally well-prepared for their future careers. Additionally, a Canadian credential carries with it a global recognition that extends far and wide, commanding respect from employers and academic institutions worldwide. Importantly, Canada offers education that is not only of high quality but also affordable when compared to other English-speaking countries.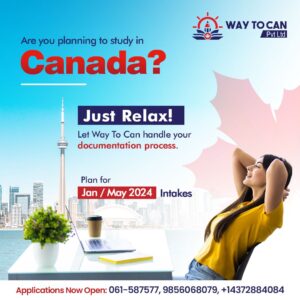 Scholarships for international students further alleviate the financial burden. Safety is paramount in Canada, with the country consistently ranking among the world's safest nations, thereby creating a secure environment conducive to learning. Furthermore, the multicultural tapestry of Canada allows Nepali students to connect with a diverse community, fostering an environment that broadens horizons. This multiculturalism also presents unique opportunities for students to delve into various cuisines, traditions, and lifestyles. Finally, Canada's renowned research programs offer students access to innovative and cutting-edge research opportunities, enriching their academic journey.
Way to Can Education Consultancy (Pokhara): Your Pathway to Success
Way to Can Education Consultancy stands as your dedicated companion throughout your educational journey to Canada, offering a range of invaluable services tailored to your success. Here's why entrusting your aspirations to us is a prudent choice:
Our seasoned team of counselors brings forth a wealth of experience and expertise, providing you with personalized guidance. This ensures that you make informed decisions, from selecting the most suitable program to choosing the right university to align with your academic and career objectives. Navigating the intricate landscape of university admissions can be a daunting task. We step in to streamline this process, offering comprehensive admission assistance. This includes expert guidance on documentation, meticulous university selection, and efficient submission procedures—all orchestrated to optimize your chances of securing that coveted acceptance letter.
The Canadian visa application process can be intricate and perplexing, but with Way to Can, it becomes a seamless endeavor. We provide unwavering visa support, simplifying the application process and meticulously ensuring that your application is thorough and precise, significantly enhancing the likelihood of a successful outcome.
In the next phase of your journey, we assist you in exploring scholarship opportunities, thereby easing the financial burden of studying abroad. Our pre-departure orientation sessions comprehensively prepare you for your life in Canada, covering vital topics such as accommodation, healthcare, and strategies to cope with culture shock. Furthermore, as you step onto Canadian soil, our commitment to your success doesn't waver; we offer post-arrival support, aiding you in adapting to your new environment.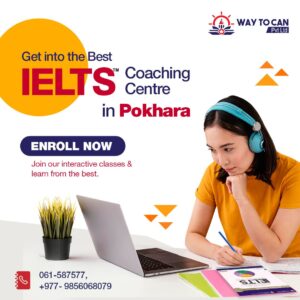 Additionally, we facilitate networking opportunities by connecting you with our extensive alumni network, forging invaluable connections during your studies and beyond. And, if language proficiency is a concern, rest assured, as we offer language training to enhance your English or French language skills, ensuring you are well-equipped for academic success and seamless communication in your new Canadian home.
The Application Process
Way to Can Education Consultancy simplifies the process of pursuing your educational dreams in Canada through a structured approach that includes the following steps:
Initial Consultation: Begin your journey by reaching out to Way to Can for an initial consultation. During this session, you can openly discuss your educational aspirations, providing our team with valuable insights into your goals and objectives.
Institution Selection: Armed with a deeper understanding of your ambitions, we guide you in selecting the most suitable university and academic program. This selection process is meticulously tailored to your interests and academic background, ensuring a harmonious fit with your educational journey.
Document Preparation: Navigating the complex web of documentation can be challenging, but with Way to Can by your side, you'll receive expert guidance. We'll walk you through the documentation process, ensuring that all required materials are not only complete but also accurate, eliminating any potential roadblocks in your application.
Application Submission: Way to Can take an active role in submitting your application to the chosen universities. Our involvement in this crucial step is aimed at increasing your chances of acceptance, leveraging our expertise and experience to your advantage.
Visa Assistance: Securing a Canadian visa is a significant milestone, and our team is committed to making this process as smooth as possible. We provide comprehensive visa assistance, offering guidance on documentation and ensuring that you meet all the necessary requirements for a successful application.
Financial Planning: The financial aspect of studying abroad can be daunting, but Way to Can help alleviate this burden. We work with you to explore scholarship opportunities and create a customized financial plan that aligns with your educational goals, making your Canadian dream more attainable.
Pre-Departure Orientation: As your departure date approaches, our pre-departure orientation sessions become invaluable. These sessions comprehensively prepare you for your journey to Canada, covering all aspects of life in the country, including accommodation, healthcare, and strategies to navigate and adapt to the culture shock that may accompany your move.
Conclusion
Studying in Canada is a life-changing experience, and Way to Can Education Consultancy is your trusted partner on this journey. With a wealth of benefits, a commitment to excellence, and a track record of success, we're here to help Nepali students realize their educational dreams in Canada. Contact Way to Can, Pokhara, Nepal today, and let us guide you toward a brighter future filled with opportunities and success.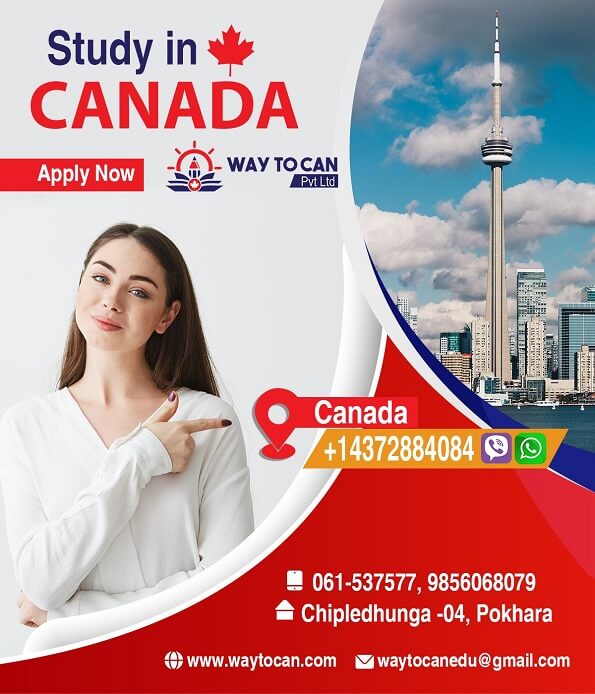 Related articles